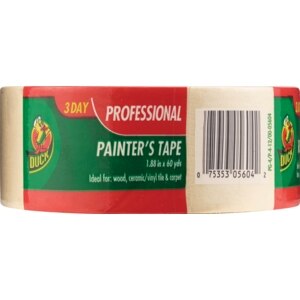 Duck Professional Painter's Tape
1.88 in x 60 yds. 3 Day clean removal. Made in USA.
Caution: Test in an inconspicuous place before using. Do not use on drywall, wallpaper, lacquer/varnish/polyurethane, uncured paint, unpainted wallboard, or surfaces with tendency to peel. Limit time of application to 3 days. Do not use in direct sunlight. For Better Results: Remove tape slowly at 90 degree angle shortly after applying paint. Liability limited to replacement of tape.