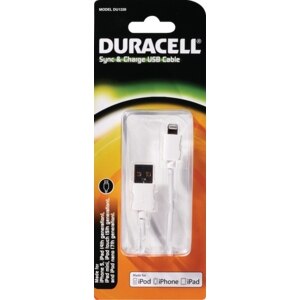 Duracell Sync & Charge USB Cable
Model DU1339. Made for iPhone 5, iPad (4th Generation), iPad Mini, iPod Touch (5th Generation), and iPod Nano (7th Generation). Made for: iPod, iPhone, iPad. The Duracell Sync & Charge Cable is designed to sync & charge the iPhone 5. Mini profile lets you take it anywhere you need to go. To learn more about our products, please visit www.duracellchargers.com. This package is composed of recyclable plastic. Material composition of paper includes post-consumer recycled material. Made in China.
1. Connect your device securely to the USB charging cable. 2. Connect the USB charging cable into the USB port of your computer or laptop. 3. Make sure both ends of the USB charging cable are securely connected. Your device should begin charging.