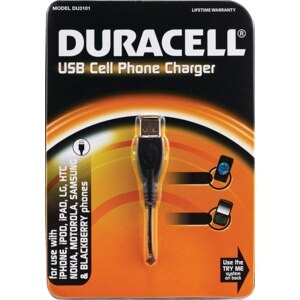 Duracell USB Cell Phone Charger
Model DU3101. Lifetime warranty. For use with Nokia, Motorola, LG, HTC, Samsung & Blackberry phones. The Duracell USB Cell Phone Charger lets you take it anywhere you need to go. The USB connector can connect to any USB powered port or device. Made in China.
Use try me system to make sure your device fits one of these connectors. USB Charger: 1. Pick appropriate connector from the package to fit your device. 2. Securely plug in end of connector into charging cord. 3. Plug charger into USB outlet and your device begins to charge.