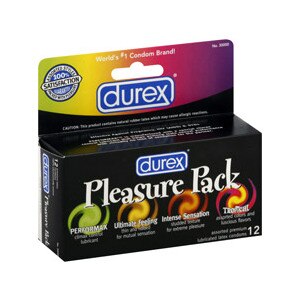 Durex Pleasure Pack Condoms Latex
Performax: Climax control lubricant. Ultimate Feeling: Thin and ribbed for mutual sensation. Intense Sensation: Studded texture for extreme pleasure. Tropical: Assorted colors and luscious flavors. World's No. 1 condom brand! Assorted styles packed with pleasure. Effective against pregnancy, HIV (AIDS) & STDs. Performax is manufactured with a special climax control lubricant that helps prolong male sexual performance with virtually no loss of sensation for the partner. Durex, the world's leading condom brand, with over 75 years of quality experience. Durex Pleasure Pack Assorted Condoms put some adventure in your love life. Featuring an assortment of our most stimulating condoms. Each condom is electronically tested for reliability. Performax: Prolongs lovemaking with body heat activated climax control lubricant. Ultimate Feeling: Thin and ribbed for mutual pleasure. Intense Sensation: Extreme pleasure featuring hundreds of raised studs. Tropical: Assorted colors and luscious flavors add excitement to lovemaking. If used properly, Durex latex condoms will help reduce the risk of unwanted pregnancies and catching or spreading HIV infection (AIDS) and many other sexually transmitted diseases. No method of contraception can provide 100% protection against pregnancy or HIV(AIDS) and STDs. Non-vaginal use of condoms can increase the potential of them slipping or being damaged, please consult your physician for advice. During intimate contact, lesions and various body fluids can transmit STDs. Therefore, use a new condom before any such contact occurs. Reservoir end. Nominal width range: 52-54 mm. 100% electronically tested. Made in India.
Made from Natural Rubber Latex. Performax Active Ingredient: Benzocaine (5%).
For maximum benefit, carefully follow the instructions inside this package. Avoid excess heat, store in a cool dry place.
These packages are tamper evident. If package is damaged, do not use. Do not use oil-based lubricants, such as petroleum jelly, vegetable/mineral oils or cold cream, as these may damage the latex condom. This product contains natural rubber latex which may cause allergic reactions. If you are allergic to natural rubber latex products, consult your physician for advice before use. You may use non-latex condoms. Performax: Premature ejaculation may be due to a condition requiring medical supervision. If this product is used as directed and does not provide relief, discontinue use and consult a physician. Avoid contact with eyes. If you or your partner develop a rash or irritation, such as burning or itching, discontinue use immediately. If symptoms persist, consult a physician. Wash off lubricant after intercourse.