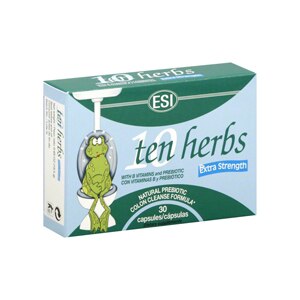 ESI Ten Herbs Extra Strength Colon Cleanse Capsules
Dietary Supplements. With B vitamins and prebiotic. Natural prebiotic colon cleanse formula. Ten Herbs Extra Strength is a dietary supplement blend of prebiotics (FOS), B-complex vitamins and vegetable extracts. Thanks to their combined synergistic actions Ten Herbs helps restore, protect and maintain the normal balance of intestinal flora. This may help relieve constipation, bloating, indigestion, gas and flatulence often attributed to microbial imbalance. The addition of B group vitamins help prevent vitamin insufficiencies which may occur when taking laxatives. This product may contain traces of lecithin. Certified Quality System Certiquality. ISO 9001 - Cert. n. 2603. (These statements have not been evaluated by the food and drug administration. This product is not intended to diagnose, treat, cure, or prevent any disease).
Other Ingredients: Food Jelly, Cellulose Microcrystalline, Anticaking Agents, Vegetable Magnesium Stearate and Silicon Dioxide, Colourings, Titanium Dioxide, Indigotin.
Serving Size: 1 capsule. Servings per Container: 30. For Use: 1 to 2 capsules daily with liquid preferably at bedtime.
Keep out of the reach of children under three years of age. Do not use during pregnancy or lactation unless advised by a health care practitioner. Do not exceed the recommended daily dosage. Supplements are not subsidiaries of a varied diet.