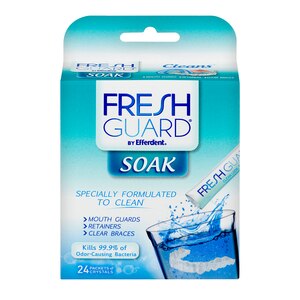 Efferdent Fresh Guard Soak
NEW!

CLEAN LOOK. FRESH FEEL.

SPECIALLY FORMULATED TO CLEAN:

RETAINERS
MOUTHGUARDS
REMOVABLE BRACES
Kills 99.9% of
Odor-Causing Bacteria
24
PACKETS of CRYSTALS
Delivers a complete clean you can see, smell and feel in just 5 minutes
Kills 99.9% of odor causing bacteria
Removes build-up of mouth film
Removes yellowing and stains
All without causing damage to retainers, mouthguards and removable braces.
Use as directed.
NO PERSULFATESfreshguardclean.comALSO TRY WIPESAlcohol Free & no water needed for a quick and convenient cleanQuestions?
1-877-925-5374
©2014 Distributed by Medtech Products Inc.,
Tarrytown, NY 10591, a Prestige Brands Company
Made in USA
DIRECTIONS:

Take a clean, empty container (e.g. plastic cup or a glass) and fill with enough warm water to fully submerge the device.
Then tear open one packet and pour contents into the water. The solution will foam-up and turn blue.
Place your retainer, mouthguard, removable braces or even your plastic case, in the effervescing solution.
Soak for 5 minutes. The solution will start to turn clear when it's ready. Remove your device and rinse thoroughly. Do not soak for more than ten minutes.
Note: When using this product for the first time, any significant build-up of mouth-film may take more than one cleaning to remove. Once cleaned to desired level, regular use of Fresh Guard by Efferdent will prevent further build-up. Some stains or discolorations, however, may be permanent, particularly on older devices.
CAUTION: Keep out of reach of children. Do not put powder or solution directly in mouth.

Store in a cool dry place