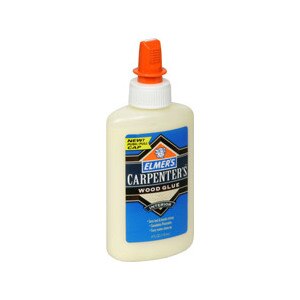 Elmer's Carpenter's Wood Glue Interior Use
Sets fast and bonds strong. Sandable/paintable. Easy water clean-up. Elmer's Carpenter's Wood Glue is ideal for cabinets, furniture, and other projects. Sets fast/bonds stronger than wood itself. Bonds all hard and soft woods. No harmful fumes. Note: For exterior repairs, use Elmer's Carpenter's Wood Glue for Exterior Use. Not for structural use. Mechanical fasteners are recommended for heavy loads. Made in China.
Preparation: Surface must be clean, dry, and free of oil and grease. Parts should fit snugly. Application: Glue to bare wood only. Spread glue on both surfaces. Clamp 30 minutes. For firmest bond, allow to dry overnight. Close bottle after use. Clean-up: Wipe up with warm, damp, clean cloth before glue dries. Keep from freezing. Store at room temperature.