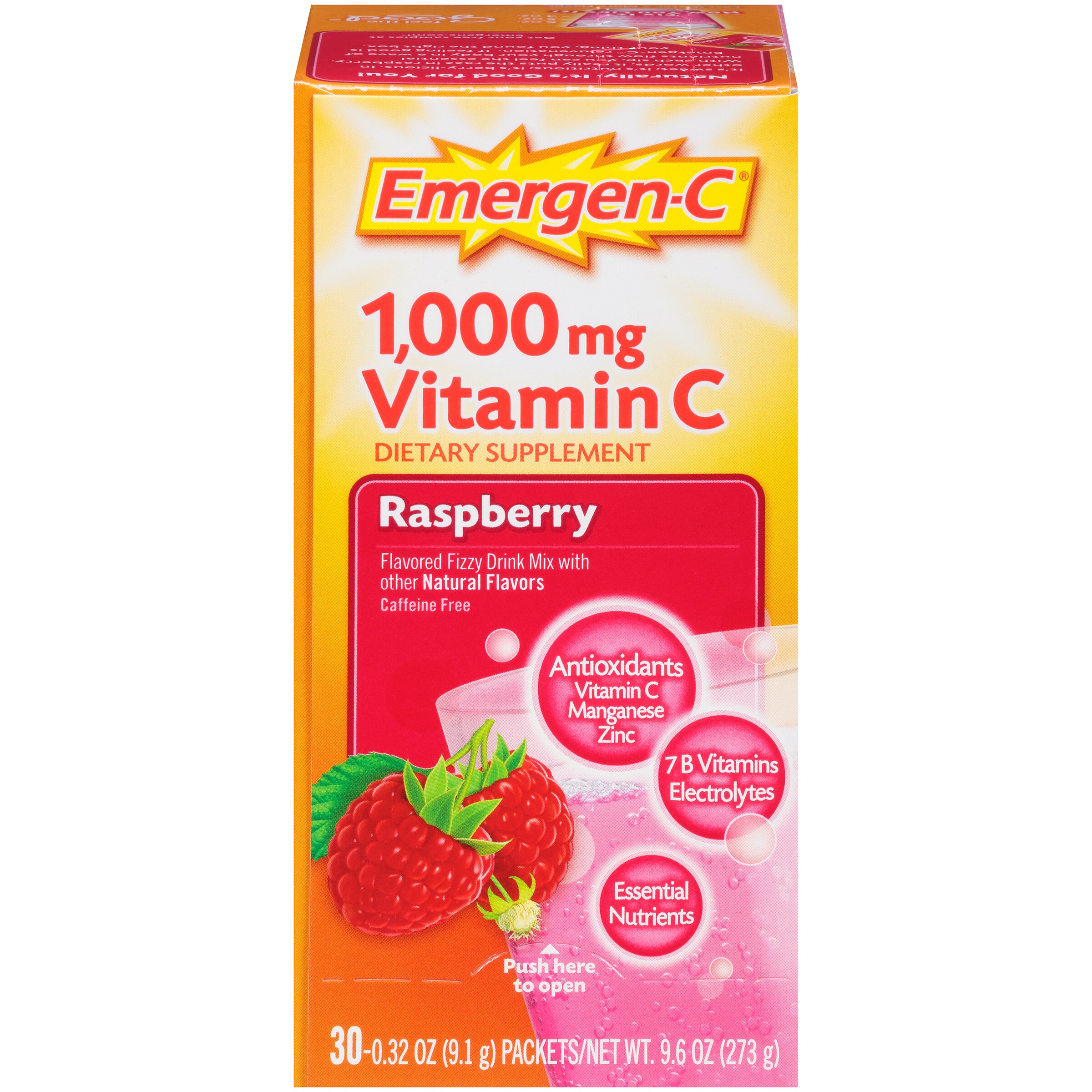 Emergen-C Vitamin C Drink Mix Packets Raspberry
Compare & Save
with CVS/pharmacy Brands
Size: 36 EA
(7)
$9.99

Out of Stock
Dietary Supplement. As 7 mineral ascorbates. Super energy booster. 32 Mineral complexes. B Vitamins. Emergen-C is so much more than just Vitamin C! The foundation of Emergen-C is built on seven mineral ascorbates. These mineral ascorbates of potassium, calcium, magnesium, manganese, sodium, chromium & zinc provide your body with 1,000 mg of vital, life-sustaining Vitamin C in a non-acidic, stomach-friendly formula. Unlike ordinary Vitamin C supplements, Emergen-C also has a total of 32 active mineral complexes along with key B Vitamins. All combined, Emergen-C is a potent blend of antioxidants, vitamins, minerals and other micronutrients that support healthy metabolic function, boost your immunity & give you a burst of non-caffeinated energy. Year round, for life! Spring: Emergen-C can put an extra spring in your step with the natural energy boost of Vitamins B1, B2, B3, B6, and B12. Summer: When temperatures rise, drinking Emergen-C's electrolyte-enhanced formula, with 32 mineral complexes, can help replenish critical fluids and minerals lost through perspiration. Fall/Winter: Emergen-C supports a healthy immune system with 1,000 mg of Vitamin C, zinc, and 32 mineral complexes. (These statements have not been evaluated by the Food and Drug Administration. This product is not intended to diagnose, treat, cure or prevent any disease.) Made in the USA.
Other Ingredients: Fructose, Raspberry Powder, Citric Acid, Malic Acid, Tapioca Maltodextrin, Vegetable Juice Color, Natural Flavor, Tartaric Acid, Silica, Caramel Color, Glycine, Aspartic Acid, and Cysteine Hydrochloride.
As a dietary supplement, take one packet 2 to 4 times a day. Place contents in glass and add 4-6 oz of water. Store in a cool, dry place.