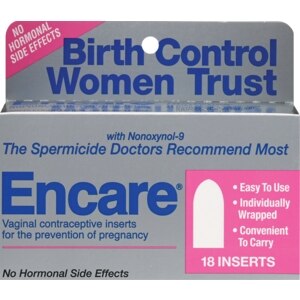 Encare Vaginal Contraceptive Inserts
Provides reliable protection against pregnancy.
For the prevention of pregnancy.
Two way protection:
Kills sperm on contact
Disperses a physical barrier of protection against the cervix
Features:
No hormonal side effects
Easy to use
Individually wrapped
Convenient to carry
At least 10 minutes prior to intercourse:
Remove the protective wrap and insert Encare into the vagina (see diagram on package insert). Each Encare insert gives you one full hour of protection.
May be used with:
Condom or diaphragm for added protection. Before use read all directions and special warnings on this package and the insert inside.
Store at 15-30 degrees C (59-86 degrees F).
Keep away from excessive heat and moisture.
For vaginal use only.
Sexually transmitted diseases (STDs) alert:
This product does not protect against the AIDS virus (HIV) or other STDs. Ask a doctor before use if you have: a new sex partner, multiple sex partners, or unprotected sex. Frequent use (more than one a day) of this product can increase vaginal irritation, which may increase the risk of getting the AIDS virus (HIV) or other STDs from infected partners. Ask a doctor or other health professional for your best birth control method.
Stop use and ask a doctor if:
You or your partner develops irritation, such as burning, itching or rash of the genitals or genital area
If pregnant or breast-feeding, ask a health professional before use
Keep out of reach of chiildren. In case of accidental ingestion get medical help or contact a Poison Control Center right away.