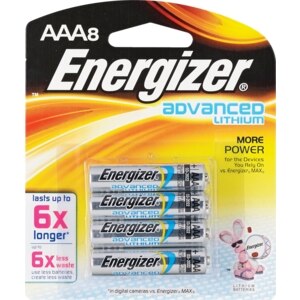 Energizer Advanced Lithium Batteries AAA8
More power for the devices you rely on vs. Energizer Max. Lasts up to 6X longer (in digital cameras vs. Energizer Max). Up to 6X less waste. Use less batteries, create less waste. More (vs. Energizer Max. Results vary by device) power for the devices you rely on. Holds power for 10 years. MP3 players; 2 way radio; video recorders; cameras. World's longest lasting AAA batteries in high-tech devices. SFI Certified Fiber Sourcing. Made in USA.
(1) Risk of fire. Battery can explode or leak and cause injury if installed backwards, disassembled, charged, crushed, mixed with used or other battery types or exposed to fire or high temperature. Keep out of reach of children, keep in original package until ready to use. Dispose of used batteries promptly. (2) If swallowed, promptly see doctor; have doctor phone (202) 625-3333 collect.