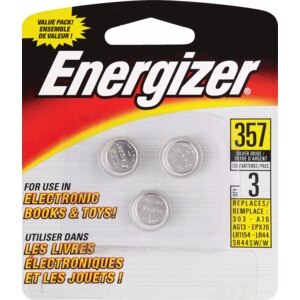 Energizer Silver Oxide Batteries 357
For use in electronic books & toys! Value pack! For use in: electronic books, games, toys, calculators, handheld devices, laser pointers, medical devices, and more. Keep going. Made in USA.
(1) Keep away from children. If swallowed, promptly see doctor; have doctor phone (202) 625-3333 collect. (2) Do not dispose of in fire or charge - may explode or leak causing injury.