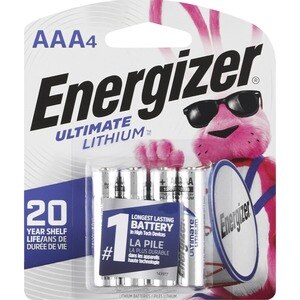 Energizer Ultimate Lithium AAA Batteries
Longest Lasting AAA battery in High-Tech devices. Lasts up to 7x longer in digital cameras vs. ordinary alkaline. Extreme high power. World's longest lasting batteries in high-tech devices: digital cameras, MP3 players, CD players, handheld games, personal organizers. 33% Lighter than alkaline. Performs well in extreme temperatures (-40 to 140 degrees F). Made in U.S.A.
Keep away from children. If swallowed , promptly see doctor; have doctor phone (202) 625-3333 collect. Do not open battery, install backwards, charge, expose to water, fire or high temperature, or mix with other battery types - may explode or leak causing injury. Replace all batteries at the same time.