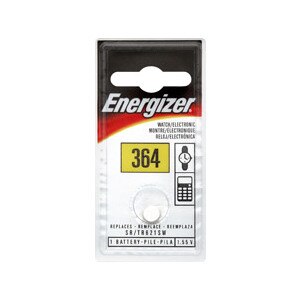 Energizer Watch Battery 1.55 Volt 364
Silver Oxide. Replaces: SR/TR621SW. Reorder No. 364BP. Made in U.S.A.
(1) Keep away from small children. If swallowed, promptly see doctor; have doctor phone (202) 625-3333 collect. (2) Battery can explode or cause burns if disassembled, charged, or exposed to water, fire or high temperature. Keep in original package until ready to use and dispose of used battery promptly.