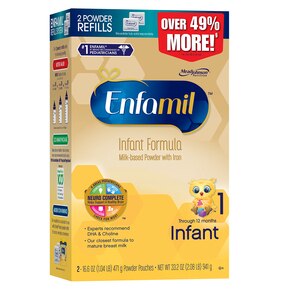 Enfamil Infant Formula Milk-Based Powder With Iron 33.2OZ
Compare & Save
with CVS/pharmacy Brands
Size: 260 OZ

$23.99

(9.2¢ / oz.)
Container contains 33.2 OZ dry formula. Reconstituted contents yield approximately 237 fl oz of formula. Better value (vs. our 22.2 oz tub). 2 powder refills. Reusable tub sold separately. No. 1 brand recommended by pediatricians. Neuro Complete: Helps support a healthy brain. 4 Areas Pediatricians Check for Most: cognitive; motor; communication; social. Experts recommend DHA & choline. Our closest formula to mature breast milk. Breast milk changes over time. Those changes inspired Enfamil Staged Nutrition - individually tailored for newborns, infants, and toddlers. Holistic Brain Development: Enfamil Infant has a Neuro Complete blend and helps support your baby's healthy brain development. The 4 Areas Pediatricians Check for Most: Cognitive: exploring or recognizing objects. Motor: crawling, rolling over and grasping. Communication: gestures, cooing, and babbling. Social: smiling, laughing and imitating. Enfamil Infant also has dual prebiotics designed to help support the development of your baby's natural defenses. Nutrition plays an important role in supporting brain function and development in the areas pediatricians check for most: cognitive, motor, communication, and social. Enfamil Infant is patterned after breast milk and has brain-nourishing nutrients DHA and choline. Enfamil Infant is our closest formula to mature breast milk. Experts recommend DHA & Choline - brain-nourishing nutrients also found in breast milk. Visit us at www.Enfamil.com. Our 2 powder refills offer the following benefits: Better Value! More bottles for less vs. our 22.2 oz tub. Makes 59 - 4 fl oz bottles or makes 39 - 6 fl oz bottles or makes 29 - 8 fl oz bottles. Estimated number of bottles per refill pack. Eco-Smart Package: 51% less packaging per ounce of product versus our 22.2 oz tub and box is 100% recyclable. Sustainable Forestry Initiative: Certified Sourcing. www.sfiprogram.org. SFI label means carton only is sourced from a renewable, responsibly managed forest program. Added Convenience: Our reusable tub is available for use with Enfamil Infant powder refills for added, everyday convenience. Reusable tub sold separately. This patented formula is available only from the Enfamil brand. Makes approx. 237 fl oz. Experts agree on the many benefits of breast milk. If you choose to use infant formula, ask your baby's doctor about Enfamil Infant. Visit Enfamil.com.
Nonfat Milk, Lactose, Vegetable Oil (Palm Olein, Coconut, Soy and High Oleic Sunflower Oils), Whey Protein Concentrate, Polydextrose (A Type of Prebiotic), Galactooligosaccharides (A Type of Prebiotic), and Less Than 1%: Mortierella Alpina Oil (A Source of Arachidonic Acid [ARA]), Crypthecodinium Cohnii Oil (A Source of Docosahexaenoic Acid [DHA]), Calcium Carbonate, Potassium Citrate, Ferrous Sulfate, Potassium Chloride, Magnesium Oxide, Sodium Chloride, Zinc Sulfate, Cupric Sulfate, Manganese Sulfate, Sodium Selenite, Soy Lecithin, Choline Chloride, Ascorbic Acid, Niacinamide, Calcium Pantothenate, Vitamin A Palmitate, Vitamin B12, Vitamin D3, Riboflavin, Thiamin Hydrochloride, Vitamin B6 Hydrochloride, Folic Acid, Vitamin K1, Biotin, Inositol, Vitamin E Acetate, Nucleotides (Cytidine 5' -Monophosphate, Disodium Uridine 5'-Monophosphate, Adenosine 5'-Monophosphate, Disodium Guanosine 5'-Monophosphate), Taurine, L-Carnitine.
Nutrition Facts
Serving Size: 5fl oz
Servings Per Container:
Variation:
| Nutrient | Amount per Serving | % Daily Value |
| --- | --- | --- |
| Calories | 100 | |
| Total Fat | 5.3g | |
| Sodium | 27mg | |
| Potassium | 108mg | |
| Total Carbohydrate | 11.3g | |
| Protein | 2g | |
| Vitamin A | 300IU | |
| Calcium | 78mg | |
| Iron | 1.8mg | |
| Kosher | | |
| Vitamin D | 60IU | |
| Vitamin E | 2IU | |
| Biotin | 3mcg | |
| Chloride | 63mg | |
| Copper | 75mcg | |
| Iodine | 15mcg | |
| Magnesium | 8mg | |
| Manganese | 15mcg | |
| Niacin | 1000mcg | |
| Pantothenic Acid | 500mcg | |
| Phosphorus | 43mg | |
| Selenium | 2.8mcg | |
| Vitamin B12 | 0.3mcg | |
| Vitamin B6 | 60mcg | |
| Zinc | 1mg | |
| Vitamin C (Ascorbic Acid) | 12mg | |
| Inositol | 6mg | |
| Choline | 24mg | |
| Linoleic Acid | 800mg | |
| Folic Acid (Folacin) | 16mcg | |
| Water | 133g | |
| Thiamin (B1) | 80mcg | |
| Riboflavin (B2) | 140mcg | |
| Vitamin K | 9mcg | |
| Tree Nut | 1 | |
| Soy | 1 | |
For Preparation & Use: Your baby's health depends on carefully following the instructions below. Proper hygiene, preparation, dilution, use and storage are important when preparing infant formula. Powdered infant formulas are not sterile and should not be fed to premature infants or infants who might have immune problems unless directed and supervised by your baby's doctor. Ask your baby's doctor which formula is appropriate for your baby. Ask your baby's doctor about the need to use cooled, boiled water for mixing and the need to boil clean utensils, bottles and nipples in water before use. (1). Wash hands thoroughly with soap & water before preparing formula. (2) Pour desired amount of water into the bottle. Add powder. (3) Cap bottle and shake well. Use the chart below for correct amounts of water and powder. Use scoop in can to measure powder. Store dry scoop in this can. To Make (Each Scoop Adds About 0.2 fl oz to the Amount of Prepared Formula): 2 fl oz Bottle: 2 fl oz water; 1 unpacked level scoop powder (8.8 g). 4 fl oz Bottle: 4 fl oz water; 2 unpacked level scoops powder (17.6 g). 8 fl oz Bottle: 8 fl oz water; 4 unpacked level scoops (35.2 g).
Do not use a microwave oven to warm formula. Serious burns may result. Failure to follow these instructions could result in severe harm. Once prepared, infant formula can spoil quickly. Either feed immediately or cover and store in refrigerator at 35-40 degrees F (2-4 degrees C) for no longer than 48 hours. Do not use prepared formula if it is unrefrigerated for more than a total of 2 hours. Do not freeze prepared formula. After feeding begins, use formula within one hour or discard. Storage/Handling: Store powder at room temperature. After opening keep lid tightly closed, store in a dry area and use contents within 1 month. Use tub with Enfamil Infant formula only. Use by date on bottom of can. Keep powder fresh and prevent bacterial growth by assuring tub is clean and completely dry. Completely empty tub and wipe clean with a clean, dry cloth before refilling. If you choose to empty pouch into tub, you must retain the batch code and use by date sticker from pouch.