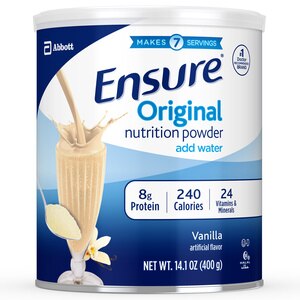 Ensure Nutrition Powder Vanilla
Complete, balanced nutrition. Add water. No. 1 doctor recommended brand. To help get strong on the inside. Calories: 250. 24 vitamins & minerals. Artificial flavor. Nutrition to help get strong on the inside. Each serving of no. 1 doctor recommended (among regular nutrition shakes) Ensure is a source of complete, balanced nutrition including 24 essential vitamins and minerals. For supplemental use between or with meals. Convenient and easy to mix. Gluten-free; suitable for lactose intolerance. Not for people with galactosemia.
Corn Syrup, Corn Maltodextrin, Sugar (Sucrose), Corn Oil, Sodium and Calcium Caseinates, Soy Protein Isolate, Artificial Flavor, Potassium Citrate, Magnesium Chloride, Calcium Phosphate, Sodium Citrate, Potassium Chloride, Soy Lecithin, Ascorbic Acid, Choline Chloride, Zinc Sulfate, Dl-Alpha-Tocopheryl Acetate, Niacinamide, Ferrous Sulfate, Calcium Pantothenate, Manganese Sulfate, Cupric Sulfate, Thiamine Chloride Hydrochloride, Pyridoxine Hydrochloride, Riboflavin, Vitamin A Palmitate, Folic Acid, Biotin, Chromium Chloride, Sodium Molybdate, Potassium Iodide, Sodium Selenate, Phylloquinone, Cyanocobalamin and Vitamin D3.
To prepare an 8 fl oz drink pour 3/4 cup of cold water into glass. Gradually stir in 1/2 cup Ensure Powder and mix until dissolved. For Flavor Variety: You may add 3 tablespoons of chocolate syrup, strawberry syrup, etc. Not for IV use. Reconstituted Ensure Powder should be used promptly or covered, refrigerated and used within 24 hours. Opened can should be covered with overcap and stored in a cool, dry place, but not refrigerated. Once opened, use contents within 3 weeks.
Contains milk and soy ingredients.