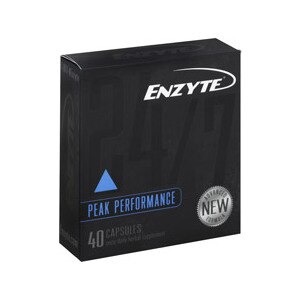 Once Daily Herbal Supplement. Since 2001, Enzyte, the original supplement for natural male enhancement, has provided millions of men with increased erection quality and heightened arousal. Now, there's Enzyte 24/7, the advanced formula capsule for peak performance and rock solid results from a brand that is committed to your health, safety and enhancement. Developed by industry experts, the premium blend of natural herbs and extracts in Enzyte 24/7 includes clinically tested ingredients shown to: support erectile function; promote critical blood flow; guard against nutrient deficiencies that may impact volume and potency. Taken just once a day, Enzyte 24/7 works with your body chemistry for results that intensify over time, so you'll have confidence in your ability to perform whenever the mood is right or the opportunity arises. Join the millions of men who have added Enzyte to their daily performance regimen so they're ready for anything, anytime, anywhere. For your health and safety, Enzyte 24/7 is unconditionally guaranteed for purity, freshness, and label potency. Enzyte 24/7 is made with premium natural ingredients, it contains: no artificial flavors, no added sugars, no yeast, no preservatives, no gluten, no ephedra, no caffeine, no yohimbe. (These statements have not been evaluated by the Food and Drug Administration. This product is not intended to diagnose, treat, cure, or prevent any disease.)
Enzyte 24/7 Proprietary Blend: Asian Ginseng Root Extract (15% Ginsenosides), Ginkgo Leaf Extract (24% Flavone Glycosides, 6% Ginkgolides), Grape Seed Extract (95% Polyphenols), Epimedium Herb Extract (Horny Goat Weed) (10% Icariin), Muira Puama Extract (4:1). Other Ingredients: Gelatin Capsule. Rice Flour, Magnesium Stearate, Titanium Dioxide (Color), FD&C Blue 1.
For adult men only. Take one (1) capsule daily, preferably with a meal. Store at room temperature. Keep out of reach of children. Enzyte brands should be taken as part of a healthy lifestyle and individual results may vary.
Transient flushing and feeling of warmth might be associated with the ingestion of niacin-containing products. Do not use if product appears to be tampered with or seal is broken. This product is not intended for use by those with a serious medical condition or pregnant or nursing women. Individuals with high blood pressure should consult their physician prior to use. Enzyte is not a contraceptive nor will it prevent sexually transmitted diseases.