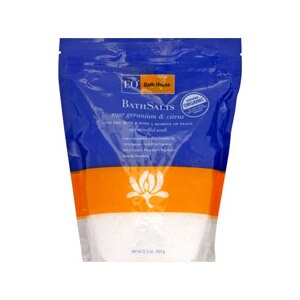 Eo Bath Salts Rose Geranium & Citrus
Give the mind & body a moment of peace. The mindful soak. Pure Rose Geranium & Citrus Essential Oils; 100% Natural - no artificial fragrance; rich in calcium, potassium & magnesium; naturally detoxifying. Rose Geranium Oil is a balancing tonic for the mind and body. It has been know to regulate hormonal fluctuations and fluid retention. Orange Citrus Oil is pressed from the skin of the fruit. This warm, uplifting oil relieves stress and tension. California Sun Dried Sea Salt is rich in calcium, potassium and magnesium. It adds valuable trace minerals to the bath, softening the water naturally and gently cleansing the skin. Epsom Salt draws toxins from the body, reduces swelling and relaxes the muscles. Yu; hot water. The Japanese call the ritual of bathing mindful soaking - a valued part of daily life. There is no easier way to create space and privacy for yourself than a few moments in the bath. Certified organic by CCOF. Made in USA.
Sodium Chloride (Sea Salt), Magnesium Sulfate (Epsom Salt), Organic Palmarosa (Cymbopogon Martini) Oil, Organic Orange (Citrus Aurantium Dulcis) Oil, Organic Geranium (Geranium Maculatum) Oil.
Bring the bathing ritual into your daily life. Add 2-3 ounces (or tablespoons) of Bath Salts to running water in your own soaking tub. For the most fragrant results, close your bathroom door before adding Salts to your bath.