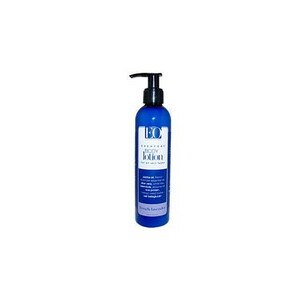 Eo Everyday Body Lotion French Lavender
Nourishing & moisturizing with pure essential oils, organic herbal infusions and Vitamins A & E. Love that lavender! Our French Lavender Body Lotion is produced from lavender that comes from Provence. There it is grown on small family owned farms in the higher elevations, which produces the most relaxing & restorative aroma-therapeutic essential oil. For us it is one of the purest, simplest and most beautiful of all scents and creates an exquisite essential oil. Pure French Lavender Essential Oil calms and relaxes the mind & body. Our Organic Herbal Blend is formulated to soothe and heal dry, irritated skin. Nourishing Mango Seed Butter replenishes the skin's moisture and provides a protective barrier from external elements. Antioxidant Vitamins A & E aid in tissue repair and improve skin elasticity. Absorbs quickly for softer, silkier skin. Please use as an all-over body treatment to nourish your skin and awaken your senses. Love life. Live clean. Be mindful of what you put on and in your body. Choose wisely! No synthetic fragrances, only pure essential oils. Not tested on animals. Made in the U.S.A.
EO Organic Herbal Blend [Purified Water, Organic Chamomile (Matricaria Recutita) Flowers (Certified Organic), Organic Aloe Vera (Certified Organic) (Aloe Barbadensis), Organic Calendula (Calendula Officinalis) Flowers (Certified Organic) and Organic White Tea (Camellia Sinensis) Leaf (Certified Organic)], Safflower (Carthamnus Tinctorius) Oil, Cetyl Esters, Caprylic/Capric Triglyceride, Glycerin, Cetearyl Alcohol, Polysorbate 60, French Lavendar (Lavendula Officinalis) Essential Oil, Mango Seed (Mangifera Indica) Butter, Retinyl Palmitate (Vitamin A), Tocopheryl Acetate (Vitamin E), Betaglucan, Cetyl Alcohol, Phospholipids, Hydroxyethylcellulose, Glyceryl Stearate, Dimethicone, Phenoxyethanol, Capryloyl Glycine.
Use as often as needed over your whole body to restore moisture. For the best results, use daily.