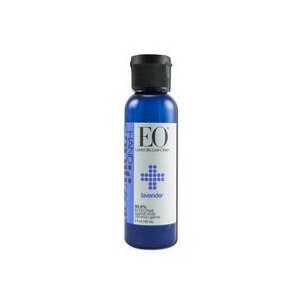 Eo Hand Sanitizer Organic Lavender
Sanitizes & moisturizes without water. The organic way to clean your hands & stay healthy. 62% Organic alcohol. EO hand sanitizer - the organic, plant - based alternative to chemical laden hand sanitizers. Organic lavender essential oil is naturally cleansing and soothing. Organic alcohol (non-GMO) sanitizes on contact. Soothing jojoba oil nourishes and moisturizes. Love life. Live clean. Not tested on animals. Choose wisely! No synthetic fragrances, only pure essential oils. Made in the USA.
62% Organic Ethanol (Non-GMO) [Certified Organic], Purified Water, Vegetable Glycerin, Organic Lavender (Lavandula Officinalis) Essential Oil (Certified Organic), Organic Jojoba Oil (Simmondsia Chinensis) [Certified Organic], Carbomer (Thickening Agent), Dimethicone (Silica-Derived Moisturizer), Aminomethyl Propanol (pH Adjuster).
For healthy hands: Put a small drop in your palm and rub your hands together until they're dry.
Flammable. Keep away from fire. Do not store above 104 degrees F/40 degrees C.