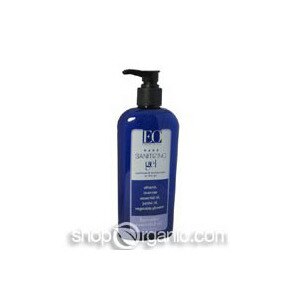 Eo Hand Sanitizer Organic Lavender
Sanitizes and moisturizes without water. The organic way to clean your hands and stay healthy. Picture this - There were two hands and zillions of germs. Each hand busy, doing all of the things of the day and zillions of germs trying to stay involved in whatever is going on. Using EO Hand Sanitizer keeps both hands refreshed, healthy and clean while keeping germs out of the picture. EO Hand Sanitizer--the organic, plant-based alternative to chemical laden hand sanitizers. Organic Lavender Essential Oil is naturally cleansing and soothing. Organic Alcohol (non-GMO) sanitizes on contact. Soothing Aloe Vera nourishes and moisturizes. Not tested on animals.
Organic Alcohol (Non-GMO), Purified Water, Vegetable Glycerin, Organic Lavender (Lavandula Officinalis) Essential Oil, Safflower (Carthamus Tinctorius) Oil, Aloe Vera (Aloe Barbadensis) Extract, Carbomer (Thickening Agent), Dimethicone (Silica-Derived Moisturizer), Aminomethyl Propanol (pH Adjuster).
For healthy hands: Put a small drop in your palm and rub your hands together until they're dry.