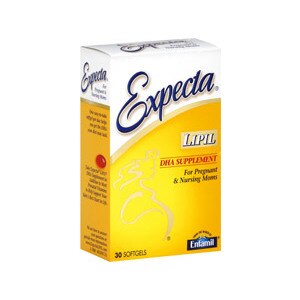 Expecta Lipil Dha Supplement Softgels
DHA supplement. Support your baby's brain and eye development during pregnancy and while breastfeeding. DHA Facts: An Omega-3 Fatty Acid. A key nutrient babies receive in utero and through breast milk. Important for development of your baby's brain and eyes. The DHA in Expecta: A non-fish source of DHA; Made with the same DHA source that is in Enfamil Lipil infant formulas. One easy-to-take softgel per day helps provide the DHA your diet may lack. Take Expecta Lipil DHA Supplement in addition to your prenatal vitamin to help support your baby's best start in life. (These statements have not been evaluated by the Food and Drug Administration. This product is not intended to diagnose, treat, cure or prevent any disease.)
Other Ingredients: Gelatin, Glycerin, High Oleic Sunflower Oil, Water, Colors (Carmine and Turmeric), Ascorbyl Palmitate (Antioxidant) and Mixed Natural Tocopherols (Antioxidant).
Take one softgel daily with a meal. For adults only. Consult your doctor before taking any supplement. Store at room temperature in a dry place. Protect from excessive heat or freezing.
Keep out of reach of children.