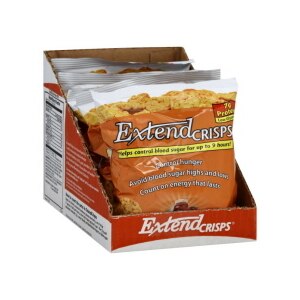 ExtendCrisps Blood Sugar Control Crisps, Honey BBQ
Naturally flavored. Helps control blood sugar for up to 9 hours! 7 g protein. Low glycemic. The light & delicious crispy, smart snack! ExtendCrisps were designed to help stabilize blood sugar levels for up to 9 hours! Its patented formula converts gradually to blood sugar over 7-9 hours instead of all at once like so many other snacks, to help minimize the swings in blood sugar. ExtendCrisps are clinically proven to help you: control hunger, by suppressing appetite; reduce blood sugar swings; avoid low blood sugar, even overnight; sustain energy during exercise and recovery. Unbeatable Nutrition Profile: Good source of protein and fiber; 0 g trans fat; All natural; Low glycemic index and load. ExtendCrisps were developed by world-renowned endocrinologist Francine Kaufman, MD, past president of the American Diabetes Association and author of the groundbreaking book Diabesity. How to count the carbs in ExtendCrisps: Based on clinically conducted continuous glucose monitoring, only 8 of the 16 grams of total carbs have a short term, impact on blood sugar. Fiber (3 g) and uncooked cornstarch (5 g), convert slowly and have minimal impact on blood sugar. Made in USA.
Soy (Low Fat Soy Flour, Rice Flour, Salt), Uncooked Cornstarch, Seasoning (Sugar, Honey Powder, Spices, Salt, Tomato Powder, Natural Flavors, Onion Powder, Garlic Powder, Paprika, Citric Acid), High Oleic Sunflower Seed Oil, Corn Fiber.
For use under medical supervision. Clinically proven to help in the dietary management of blood sugar levels. Not a treatment for low blood sugar episodes once they occur.
Allergy Information: Contains soy. Manufactured in a facility that processes milk and wheat.