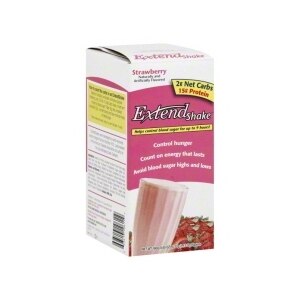 ExtendShake Blood Sugar Control Shake, Strawberry
Naturally and artificially flavored. 2 g net carbs. 15 g protein. Helps control blood sugar for up to 9 hours! Controls hunger. Count on energy that lasts. Avoid blood sugar highs and lows. How to count the carbs in an ExtendShake: Based on clinically conducted continuous glucose monitoring, only 2 of the 12 total carbs have a short term impact on blood sugar (When mixed with water. Using 8 oz. skim milk adds 12 carbs.). Fiber (5 g) and uncooked cornstarch (5 g) - convert slowly and have minimal impact on blood sugar. ExtendShakes were developed by world-renowned endocrinologist Francine Kaufman, M.D., past president of the American Diabetes Association and author of the groundbreaking book Diabesity. ExtendShake is not a treatment for low blood sugar episodes once they occur. Clinically proven to help in the dietary management of blood sugar levels. The patented formula in ExtendShakes converts to blood sugar so gradually it helps stabilize blood sugar levels for up to 9 hours! An ideal drink anytime! High in protein (15 g) and fiber (5 g). Low in fat with 0 g trans fat. Gluten-free. Low glycemic index. 24 vitamins and minerals. Made in USA.
Isolated Soy Protein, Uncooked Cornstarch, Whey Protein Isolate, Dextrin (Fiber), Inulin (Fiber), Sunflower Oil, Maltodextrin, Sugar, Xanthan Gum, Natural and Artificial Flavors, Modified Food Starch, Carageenan, Soy Lecithin, Vitamins and Minerals (Palmitate, Cyanocobalamin, Pyridoxine Hydrochloride, Ascorbic Acid, Cholecalciferol, dl-Alpha Tocopheryl Acetate, Phytonadione, Ferric Orthophosphate, Thiamine Mononitrate, Riboflavin, Niacinamide, Folic Acid, Biotin, Pantothenic Acid, Iodine, Magnesium, Zinc, Selenium, Copper Oxide, Manganese Citrate, Chromium, Molybdenum), Sucralose, Citric Acid, Dextrose, Red 40, Tricalcium Phosphate.
For use under medical supervision. 1. Fill shaker or blender with 8 oz. of cold water. For best taste replace water with skim milk. 2. Add powder packet to liquid. 3. Mix vigorously until powder is completely dissolved. Use more or less liquid when mixing to control sweetness and thickness.