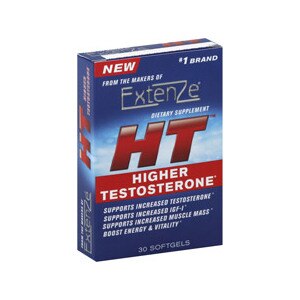 Extenze Higher Testosterone Softgels
Dietary Supplement. Supports increased testosterone. Supports increased IGF-I. Supports increased muscle mass. Boost energy & vitality. No. 1 brand. From the makers of Extenze. The ingredients in HT supports increased testosterone levels. HT does not contain testosterone. (This statement has not been evaluated by the Food and Drug Administration. This product is not intended to diagnose, treat, cure or prevent any disease.) Manufactured in the USA.
Other Ingredients: Rice Bran Oil, Gelatin, Glycerin, White Beeswax, Water, Lecithin (Sunflower), FD&C Blue 1, Titanium Dioxide, and FD&C Red 3.
Nutrition Facts
Serving Size: 1softgel
Servings Per Container: 30
Variation:
| Nutrient | Amount per Serving | % Daily Value |
| --- | --- | --- |
| Dehydroepiandrosterone (DHEA) | 50mg | |
| Gamma Aminobutyric Acid (GABA) | 100mg | |
| Pregnenolone | 100mg | |
| Fish | 1 | |
| Fish Oil 33%EPA/22%DHA | 50mg | |
| Rosemary Extract (Antioxidant) | 5mg | |
As a dietary supplement, for best results take one (1) softgel daily in the morning with 6-8 fl oz of water. Store at 59-86 degrees F (15-30 degrees C).
Allergen Warning: This product contains fish oil. Keep out of reach of children. Do not use if inner seal is broken. Serious adverse events may be reported to the domestic address and/or phone number on this label. Not for use by individuals under the age of 18 years. Do not use if pregnant or nursing. Consult a physician or licensed health care professional before using this product if you have a family history or prostate cancer, prostate enlargement, heart disease, low good cholesterol (HDL), or if you are using any other dietary supplement, prescription drug, or over the counter drug. Only use as suggested. Do not exceed recommended serving; this may cause serious adverse health events. Possible side effects include acne, hair loss, hair grown on the face in women, aggressiveness, irritability, and increased levels of estrogen. Discontinue use and call a physician, or licensed health professional immediately if you experience rapid heart beat, dizziness, blurred vision, or other similar symptoms.