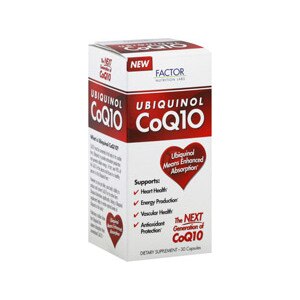 Factor Nutrition Labs Ubiquinol CoQ10 Capsules
Dietary Supplement. Ubiquinol means enhanced absorption. Supports Hearth Health: Ubiquinol is essential for heart health because it provides cellular energy to the heart. Supports Energy Production: Ubiquinol is a key component in 95% of the body's energy production. Taking a Ubiquinol supplement helps to restore optimal levels the body needs. Supports Antioxidant Protection: Because Ubiquinol is one of the strongest lipid-soluble antioxidants available, it provides defense against free radical damage to the body's cells. What is Ubiquinol CoQ10? CoQ10 must be converted in the body to its usable form, Ubiquinol, to provide antioxidant production and generate cellular energy. In fact, over 90% of the CoQ10 in the plasma and tissue in a healthy person is in the Ubiquinol form. However, as you get older, your body's ability to produce and convert CoQ10 to its active form Ubiquinol diminishes significantly. Taking a Ubiquinol supplement helps to restore optimal levels of Ubiquinol in the body. Preliminary studies show that Ubiquinol has superior absorption that conventional CoQ10. (These statements have not been evaluated by the Food and Drug Administration. This product is not intended to diagnose, treat, cure or prevent any disease). Manufactured with all-natural excipients. Contains no fillers, sweeteners, or preservatives. Also contains to yeast, milk, egg, soy, gluten, starch or wheat. Manufactured in USA.
Other Ingredients: Medium Chain Triglycerides, Citrus Extract, Gelatin (capsule), Silica and Titanium Dioxide.
Adults take one capsule daily with food and water, or as directed by your healthcare professional.
For adults only. Keep out of reach of children. This product is not a substitute for any medication. If you are pregnant, nursing or suffer from a medical condition, consult a physical before taking this product. Store in a cool, dry place with lid tightly closed.