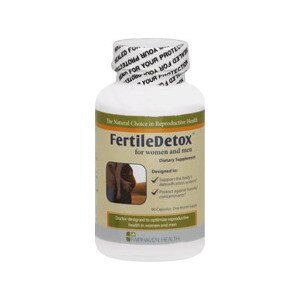 Fairhaven Health FertileDetox for Women and Men Dietary Supplement
Dietary Supplement. One month supply. the natural choice in reproductive health. Designed to support the body's detoxification systems. Protect against harmful contaminates. Doctor-designed to optimize reproductive health in women and men. Doctor-designed FertileDetox was formulated to enhance fertility in both women and men by aiding the body in neutralizing and removing toxic compounds that diminish reproductive health. Chronic exposure to environmental toxins can decrease female fertility by causing menstrual cycle abnormalities and male fertility by damaging sperm, and may interfere with healthy fetal development. FertileDetox is a unique and comprehensive formula containing vitamins, minerals, probiotics, herbs, amino acids and special ingredients known to support the body's detoxification and cleansing systems. For optimal results, FertileDetox should be taken by the female and male partner for 3 months before actively trying to conceive and throughout your conception effort until pregnancy is confirmed. FertileDetox may be taken in conjunction with FertilAid for Women and FertilAid for Men. (These statements have not been evaluated by the Food and Drug Administration. This product is not intended to diagnose, treat, cure or prevent any disease). Made in the USA.
Proprietary Blend: Citrus Pectin, Dandelion Taraxacum Officinale (Root), L-Glutamine, L-Glycine, Beet (Root), Milk Thistle Silybum Marianum (Seed), Green Tea Camellia Sinensis (Leaf) Extract, L-Taurine, Calcium D-Glucarate, N-Acetyl L-Cysteine, Grape Vitis Vinifera (Seed) Extract. Probiotic Blend: Lactobacillus Acidophilus, Lactobacillus Rhamnosus, Bifidobacterium Bifidum, Bifidobacterium Longum. Other Ingredients: Cellulose, Microcrystalline Cellulose, Magnesium Stearate, Silicon Dioxide.
As a dietary supplement, take 3 capsules daily in divided doses.
Contains: milk. Keep out of reach of children. For adults only. If you have a preexisting medical condition, please consult a doctor before use. If tamper seal is broken or missing, do not use. Discontinue use once pregnancy has been confirmed by urine or blood test.