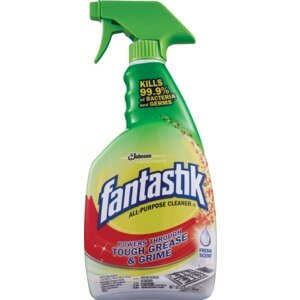 Fantastik Scrubbing Bubbles Heavy Duty Cleaner
Fantastik brings you this powerful, scientifically advanced product that does it all - cuts grease streak-free and kills germs. Fantastik combines streak-free grease cutting power with antibacterial disinfectants so you can get the maximum clean for your home.
It is a violation of Federal Law to use this product in a manner inconsistent with its labeling. FOR GENERAL HOUSEHOLD CLEANING hold 6-8 inches from the surface, spray surface then wipe with a dry paper towel or lint-free cloth. No rinsing necessary. TO DISINFECT/DEODORIZE, reapply, covering entire surface with spray. Allow surface to remain wet for 10 minutes. TO PREVENT MOLD AND MILDEW GROWTH on hard, nonporous surfaces, spray thoroughly. Reapply as new growth appears.
Precautionary statements: Hazards to humans and domestic animals: Caution: Causes eye irritation. Avoid contact with eyes. First aid: In case of contact, immediately flush eyes with plenty of water. Get medical attention if irritation persists.