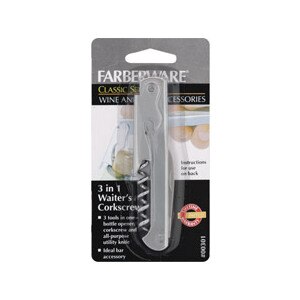 Farberware 3 In 1 Waiter's Corkscrew
Wine and Bar Accessories. 3 tools in one - bottle opener, corkscrew and all-purpose utility knife. Ideal bar accessory. Made in China.
1. Cut and remove foil from top of bottle. 2. Insert corkscrew into cork and twist in a clockwise direction until screw completely disappears into cork. 3. Push handle down (to rear side of bottle); place corkscrew flush against opposite end of bottle. 4. Slowly lift handle until cork is removed from bottle.