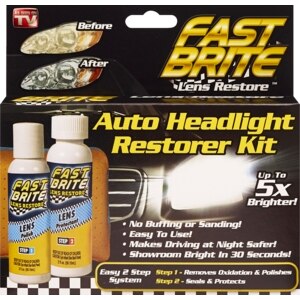 Fast Brite Auto Headlight Restorer Kit
Includes: (1) 2 fl oz Step 1 Polish; (1) 2 fl oz Step 2 Protectant; (1) applicator sponge. As seen on TV. Up to 5x brighter! No buffing or sanding! Easy to use! Makes driving at night safer! Showroom bright in 30 seconds! Easy 2 Step System: Step 1 - Removes oxidation & polishes. Step 2 - Seals & protects. No buffing. No sanding. No tools. Showroom bright in 30 seconds! Step 1 and Step 2 - Made in USA. Applicator sponge - Made in China. Assembled in USA.
Step 1: 1. Pour dime sized amount of Lens Polish onto yellow side of pad. 2. Rub in small circular motion briskly over entire lens until lens feels smooth. Step 2: 1. Pour Lens Protectant generously onto blue (microfiber) side of pad. 2. Rub over entire lens area. 3. Buff with clean dry cloth.
Do not come in contact with painted surfaces, as it will scratch. Keep out of reach of children. Avoid eye and skin contact. If eye contact occurs, flush well with water. If skin contact occurs, wash with soap and water. Use in well ventilated areas. If swallowed do not induce vomiting, seek immediate medical attention. For chemical emergency, spill, leak, fire, exposure or accident - call Chemtrec 24 hours - domestic North America 800-424-9300.