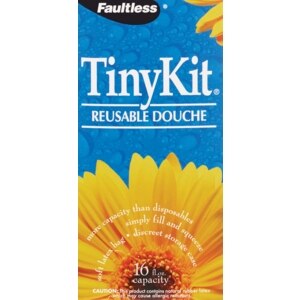 Faultless Tinykit Reusable Douche
TinyKit is the easy and economical way to get that clean, fresh feeling. TinyKit is very convenient to use. You just simply fill the soft latex bag, attach the pipe and squeeze. TinyKit has more capacity than disposables and holds up to 16 fl oz of your favorite douching solution. With its reusable design, TinyKit is less expensive to use than disposables. TinyKit is perfect for use at home or when traveling and can be stored in its attractive and compact storage case. 10 year warranty: Should this product prove defective in workmanship or material within 10 years from the date of purchase, it will be replaced without expense to the purchaser, subject to the following conditions: 1. The defective product is returned to the store from which it was purchased. 2. A receipt that provides proof of the date of purchase accompanies the returned product. 3. The product is not considered defective from normal deterioration or wear, or form accident or abuse such as: a. Using anything other than plain water or commercially sold or doctor-recommended preparations on or in the product. B. Exposing product to direct sunlight or heat. C. Placing heavy or sharp objects on top of the product. The responsibility of the manufacturer is limited to replacement of the product returned. Manufacturer shall not be liable for consequential of incidental damages.
Product Type:

Douche

Quantity:

1-10 CT

Size:

Travel
How to use: Gently squeeze the bag to expel air. Carefully insert the pipe into the vagina. Squeeze the bag firmly, with a moderate amount of pressure. TinyKit may be used in the tub, on the toilet, or in the shower. Cleaning & storage: After use, rinse bag with plain water. Wash pipe with a mild soap solution and rinse thoroughly with lukewarm water. Shake rinsed components free of water and allow to dry. After all parts are air-dried, store product in the discreet storage purse in a dark, cool, dry place.
This product contains natural rubber latex which may cause allergic reactions. Use only plain water, commercially sold or doctor-recommended douche preparations in or on this product. Use of anything else could damage the product. Do not place heavy or sharp objects on top of the product. Do not expose to direct sunlight or heat, as this will adversely affect the product.