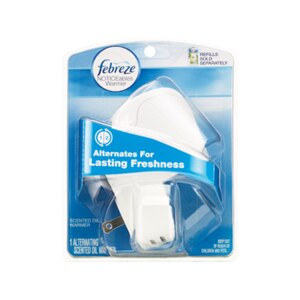 Febreze Noticeables Scented Oil Warmer 2-in-1
Use with dual scented oil refills. 2-in-1 eliminates odors and freshens. Freshness you notice for more than 30 days (on low). 2 scents automatically alternate. Warmer made in China.
1. Adjustable intensity control. 2. Two complementary scents sold separately - not included. 3. Plug rotates to fit outlet. Installation Instructions: 1. Unscrew both caps on fragrance refill and discard. 2. Insert bottle unit completely into warmer until you hear a click. 3. Adjust warmer to desired intensity (Low-High). 4. Insert warmer unit upright into outlet. Rotate plug if necessary. Placing warmer on its side or upside down will cause leakage. UL listed.
Keep out of reach children and pets. Do not put fingers into product vent. Keep out of reach of children and pets.