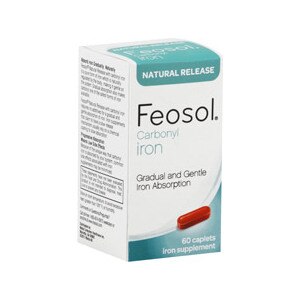 Feosol Carbonyl Iron Caplets
Iron Supplement. Gradual and gentle iron absorption. Choose the Feosol Iron that's right for you. Each form of iron is absorbed differently by the body, depending on the individual, the form of iron and diet. Feosol Natural Release: Type of Iron: Carbonyl iron; Benefit: gradual and gentle iron absorption. Absorb Iron Gradually, Naturally: Feosol Natural Release with carbonyl iron is a pure form of iron which is naturally regulated by the body, making it gentle on the system. Gradual absorption also makes carbonyl one of the safest forms of iron available. Feosol Natural Release with carbonyl iron requires no additives for a gradual and gentle absorption of iron. Iron supplements that claim to have a slow release mechanism usually rely on a chemical coating to slow absorption. Progressive Absorption Means Low Side Effects: Because of the unique way that carbonyl iron is absorbed by your system, common side effects associated with iron supplements may be minimized. (These statements have not been evaluated by the Food and Drug Administration. This product is not intended to diagnose, treat, cure or prevent any disease.)
Nutrition Facts
Serving Size: 1 caplet
Servings Per Container:
Variation:
| Nutrient | Amount per Serving | % Daily Value |
| --- | --- | --- |
| Iron | 45 mg | 250 % |
| Milk | | |
One caplet daily or as directed by a physician. Children under 12 years old should consult a physician. Do not exceed recommended dosage. Store at room temperature, to avoid excessive heat (greater than 100 degrees F) or humidity.
Contains: milk. Iron may interfere with absorption of certain antibiotics; these products should not be taken within two hours of each other. Occasional gastrointestinal discomfort (such as nausea) may be minimized by taking iron with meals. If pregnant or nursing, consult a physician before using. Accidental overdose of iron-containing products is a leading cause of fatal poisoning in children under 6. Keep this product out of reach of children. In case of accidental overdose, call a doctor or poison control center immediately.