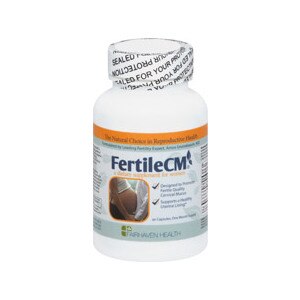 A dietary supplement for women. One month supply. The natural choice in reproductive health. Formulated by leading fertility expert, Amos Grunebaum, MD, FertileCM is designed to promote fertility by increasing both the quality and quantity of cervical mucus (CM) - the bodily fluid so important to fertility and conception. FertileCM addresses one of the most common problems that trying-to-conceive women may face: insufficient cervical fluid or hostile cervical mucus that can inhibit the transport of sperm to the egg. FertileCM integrates vitamins and key nutrients, including the amino acid L-Arginine, which promotes the synthesis of nitric oxide (NO), a chemical produced naturally in the body that supports several important bodily functions. The ingredients in FertileCM have also been shown to support a healthy endometrial (uterine) lining and increase female arousal, sexual sensitivity, and libido. Color of this product may vary due to color variations of the natural ingredients. These statements have not been evaluated by the Food and Drug Administration. This product is not intended to diagnose, treat, cure, or prevent any disease.
L-Arginine, N-Acetyl Cysteine, Coral Calcium, Grape Seed Extract, and Lactobacillus Acidophilus. Other Ingredients: Vegetable Cellulose, Microcrystalline Cellulose, Silica.
As a dietary supplement, take 3 capsules daily in divided doses with food. Discontinue use once pregnancy has been confirmed by urine or blood test. To support full benefits of FertileCM, drink at least 64 ounces of water daily. Store in a cool, dry place. Keep out of reach of children.
If you have a pre-existing medical condition, consult a doctor before sue. If tamper seal is broken or missing, do not use. In case of accidental overdose, call a poison control center immediately.