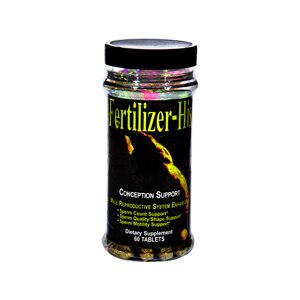 Dietary supplement. Conception support. Reproductive system enhancer. Maximum International's Fertilizer - His is a nutritional formula manufactured and formulated under strict supervision, and made from the highest quality raw materials available.
Proprietary Blend: L-Arginine, St. John's Wort, Yohimbe, Horny Goat Weed, Korean Ginseng, Saw Palmetto, Flax Seed, Garlic, Grape, Tribulus Terrestris, Gingko Biloba, Mistletoe European, Coenzyme Q10.
Fertilizer - His works naturally with your body. Take 2 tablets a day as dietary supplement to support in conception.