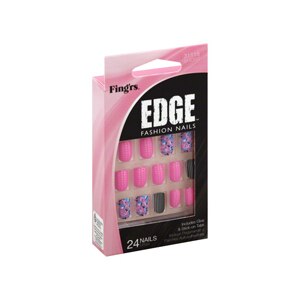 Fing'rs Edge Hardcore Nails
Limited edition. Includes glue & stick-on tabs. Sustainable Forestry Initiative - Certified Fiber Sourcing. Packaged in Mexico with parts from: nails - China, glue - Japan/ Thailand, stick-on tabs - USA.
Glue: Ethyl Cyanoacrylate, Polymethyl Methacrylate, Acetyl Tributyl Citrate, BHA, Red 7 (CI 15850), Panthenol, Retinyl Palmitate, Tocopherol. Stick-On Tabs: Styrene/Isoprene Copolymer.
Glue Application (Up to 10 Day Wear): 1. Buff, clean, and dry nails before applying artificial nails. 2. Select a nail that closely matches your natural nail size. 3. Apply Fing'rs nail glue to your natural nail. Press artificial nail onto your natural nail. Hold in place 5-10 seconds until dry. (To use glue: snip glue tip away from body). Stick-On Tab Application (Temporary Wear): 1. Buff, clean, and dry nails before applying artificial nails. 2. Remove Stick-On tab from backing. Place sticky side onto your natural nail. Do not remove paper backing until tabs have been applied to all nails. 3. Remove paper backing one at a time and apply nails immediately. Removal Of Glue-On Nails: 1. Do not pull or force artificial nails off. Clip off artificial nail that is longer than your natural nail. 2. Buff the surface of the artificial nail to break down the top coat. 3. Soak in pure acetone until soft. Alternating the buffing and soaking. Hint: Removers with conditioners will slow the removal process. Removal of Stick-On Tabs: Soak in warm soapy water for 10-15 minutes. Pry up edge until adhesive bond separates. To maintain healthy strong nails, glue-on nails should be removed every 7-10 days and a new set applied.
Cyanoacrylate bonds skin and eyes in seconds. Avoid contact with eyes, mouth and skin. Keep out of reach of children. Avoid contact with clothing as can cause burn. Do not use if nail is inflamed or infected. Eyelid Bonding: Consult a physician. Skin Bonding: Soak in water and ease apart gently. Do not force apart.