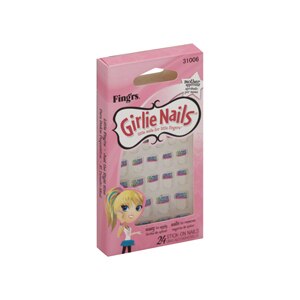 Fing'rs Girlie Nails Stick-On Nails, Assorted
Mother approved. Little nails for little fingers. Easy to apply. Safe to remove. Contents: 24 stick-on nails. Beautiful nails in seconds. Simply apply. Stick-on nails are easy to apply and safe remove. No harsh glue needed. www.fingrs.com. Little Fing'rs. Just the right size. Press & go. No glue needed. Made in China.
Acrylates/VA Copolymer, Water (Aqua), Nonoxynol-2, Ammonium Persulfate.
Nail application: 1. Buff, clean and dry nails before applying artificial nails. 2. Select a nail that closely matches your natural nail size. 3. Place stick-on nails at the base of the cuticle and firmly press onto your own nail. Removal: Soak in warm soapy water for 10-15 minutes. Gently peel up edge until adhesive bond separates.
Do not apply to damaged or infected nails. Keep away from heat or flame. Keep out of reach of small children. For children ages 5+. Adult supervision recommended.