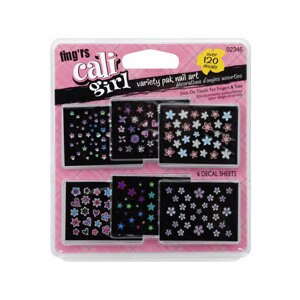 Fing'rs Nail Art Variety Pak
Over 120 decals. Stick-on decals for fingers & toes. 6 decal sheets. Packaged in China with parts from Nail-Art - Taiwan.
C12-15 Alkane/Cycloalkane/Aromatic Hydrocarbons, Hydrogenated C6-20 Polyolefin, Polybutene, Hydrated Silica, 1,3-Benzenedicarboxylic Acid, Polymer with 1,4-Benzenediacarboxylic Acid, 2,2-Dimethyl-1,3-Propanediol, 1,2-Ethanediol and Hexanedioic Acid.
Nail Decal Application: Peel decal from backing and press on desired nail. Apply top coat to seal decal. Removal: Use non-acetone polish remover.
Keep out of reach of children.