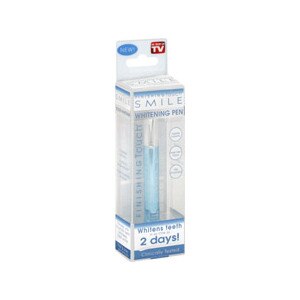 Finishing Touch Smile Whitening Pen, Fresh Mint
Whitens teeth in as little as 2 days! Smile. Applies instantly. Little to no sensitivity (Based on the results from clinical testing. Some people may experience tooth sensitivity when using the Finishing Touch Smile. Tooth sensitivity from whitening is temporary and is not harmful). Use anywhere. As seen on TV. Clinically tested. Tooth whitener. The easy way to whiten teeth and keep them white! Fast & easy gel formula. The Finishing Touch Smile Tooth Whitening Pen is an easy way to dramatically whiten your teeth. Use anywhere, anytime. This clinically-tested advanced whitening gel has been proven to noticeably whiten teeth in as little as 2 days with little to no sensitivity. The Finishing Touch Smile Tooth Whitening Pen is not a substitute for regular dental care. Please visit your dentist regularly. For best results, refrain from eating or drinking for 30 minutes after application. Finishing Touch Smile will only whiten your natural teeth, and will not whiten caps, veneers, crowns, fillings or dentures. Do not use the Finishing Touch Smile if you are pregnant or nursing, or if you have braces or while wearing any other kind of overnight dental appliance. This product is designed for use only by adults and persons over the age of 16. Store in a cool, dry place. Keep away from direct sunlight. Read instructions before using. May be used safely up to 4 times daily. Gel formulated and filled in the USA. Package printed in China. Applicator made in Taiwan.
Water, Hydrogen Peroxide, Glycerin, PEG-60 Hydrogenated Castor Oil, Carbomer, Ammonium Hydroxide, Flavor, Sucralose, Etidronic Acid, Potassium Stannate.
Step 1: Remove cap. Step 2: Twist dial at bottom of pen in clockwise direction until a small drop of gel is visible. Several twists may be required. Step 3: Apply thin layer of gel onto upper teeth and allow to dry for 30 seconds. Repeat with lower teeth. Use only up to four times daily. Step 4: Replace cap immediately after use.
Keep out of the reach of children.