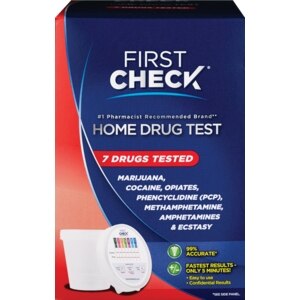 First Check Home 7 Drug Test
Features:
Marijuana
Cocaine
Opiates
Methamphetamines
Ectasy
Amphetamines
Phencyclidine (PCP)
Results in minutes. Private. Proactive. Prevention. FDA cleared. 99.9% Accuracy. As accurate as screening tests used by doctors & hospitals. Fast. Accurate. Simple.
When the Need to Know is Now:
The First Check 7 Drug Test Kit, provides preliminary information in just 5 minutes about the possible use of 7 of the most common drugs of abuse; Marijuana, Cocaine, Opiates, methamphetamines, Ectasy, Amphetamines, and PCP. Each day, 15,000 kids will try drugs for the first time. Do you have the tools to ensure yours is never one of them?
Private:
A home drug test can enhance communication and conversation in your own home and can ensure you and your family complete confidentiality.
Proactive:
Today's proactive parents are utilizing every tool available to take control in the fight against drugs, including purchasing a home drug test. Just owning a kit is a deterrent.
Prevention:
Peer pressure and curiosity are strong influences in a teen's life. Give your teen the extra support he or she needs to say no.
Accuracy:
Laboratory studies for accuracy confirm that the First Check 7 Drug Test kit had 100% agreement when testing true negative samples. True negative samples are samples that previously tested negative by gas chromotography/mass spectrometry (GC/MC), the gold standard in laboratory testing.
In those same studies, clinical positive samples tested with First Check and GC/MS showed 100% Agreement when the test was performed as directed. Clinical positive samples are those that previously tested at levels 50% or greater above the established cut-off levels.
Samples at or near the cut-off level provided the greatest margin for error. First Check is the first step in the process to detect drugs of abuse in urine. We recommend all positive screening results be sent to the laboratory for confirmation. See package insert for cut-off levels.
This Kit Contains:
Confidential Confirmary Test included in purchase price
1 First Check 7 Drug Test lid with integrated results window
Specimen cup
Conformation identification label
Transportation bag
Pre-addressed mailing box
Detect the possible use of 7 of the most common drugs of abuse. The first step in the process to detect drugs of abuse in urine.
Ship & Save:

Ship & Save Eligible
Easy to test, easy to read - results in minutes.
Step 1:
Collect specimen.
Step 2:
Attach test lid, rest cup on legs.
Step 3:
Wait 5 minutes and read results.
Store at room temperature or refrigerated, 40-86 degrees F (4-30 degrees C).
Read enclosed directions completely before use.