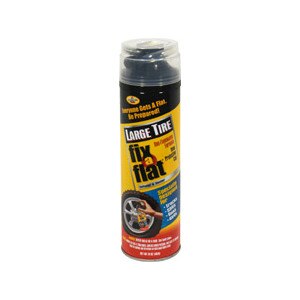 Fix A Flat Large Tire Inflator & Sealer
For use on trucks, SUVs, vans and 4x4s. Tire sensor safe! Seals in minutes. Just connect, inflate and go! Non-flammable formula. Specially designed for trucks, SUVs, vans, 4x4s. No jacks or tools required. Seals and inflates in minutes. Non-flammable formula. Patented proprietary rubber compound provides an emergency seal on contact. Do not use in bicycle, high performance, Z-rated or motorcycle tires. Made in USA.
Wear protective eye wear during use (safety goggles, eyeglasses, sunglasses, etc). If temperature is below 32 degrees F, warm can using vehicle''s interior heater vent before use. 1. If possible, move car slightly so that the tire valve is in the 4 o''clock to 8 o''clock position. 2. Shake can vigorously for 30 seconds before attaching hose to tire. remove cap, unwind hose and tightly screw nozzle clockwise onto tire valve. 3. Hold can upright and push button down firmly. Product will be activated automatically. Do not shake can while hose is attached to valve stem to avoid hose breakage, which might cause contents to spray eyes, clothing or vehicle. 4. Only when product stops moving through the clear hose, release button. Then unscrew hose. 5. Make sure tire rim lifts off the ground. 6. Only if rim is off the ground, drive vehicle immediately a short distance (2 to 4 miles) to allow tire pressure to increase and sealant to spread evenly inside the tire. 7. If needed, add air up to manufacturer recommended pressure. 8. Have tire repaired by tire professional at the earliest opportunity.
Harmful or fatal if swallowed. Contents under pressure. Eye irritant. Vapors may cause drowsiness and dizziness. Precautionary measures: contains aromatic solvents and fluorocarbons. Health hazard: a component of this material may cause cancer. Risk to your health depends on level and duration of exposure. Precautionary measures: Use in well ventilated area. Do not use indoors. Do not use if any portion of this product is dented or otherwise damaged. Do not ingest or inhale. Avoid contact with eyes. Do not puncture or incinerate container. Do not expose to heat, open flame, direct sunlight or store at temperatures above 120 degrees F. Exposure to heat may cause can to rupture. Do not store in interior of car (including glove compartment and inside hatchbacks). Temperatures inside car can exceed 120 degrees F. Store outside passenger area of vehicle secured in spare tire well or trunk. Do not use with any other tire inflator product. Do not use on motorcycle tires. Failure of one tire could cause loss of control. Do not use on high performance or Z-rated tires. First Aid: Inhalation: If inhaled, breathe fresh air. Skin Contact: Wash with soap and water. Eye Contact: Flush with water for 15 minutes. If irritation persists, call physician. Ingestion: If ingested, do not induce vomiting. Call a physician or Poison Control Center immediately. Keep out of reach of children. This product contains a chemical known to the state of California to cause cancer. Never weld on a rim. Welding on a rim with the tire mounted could cause the tire to explode regardless of whether tire inflator is used. Welded and repaired rims are unsafe. Fix-A-Flat provides a quick emergency repair. Treated tires should be checked by a qualified tire professional at the earliest opportunity to ensure safety. Advise tire professional of product use. Deflate tires containing Fix-A-Flat only in well ventilated areas. If tire rim does not lift off ground after product use, have tire repaired. Fix-A-Flat will not repair sidewall or severe damage, cracks in wheels or rim leaks. If Fix-A-Flat is spilled on paint, wash off immediately with soap and water.