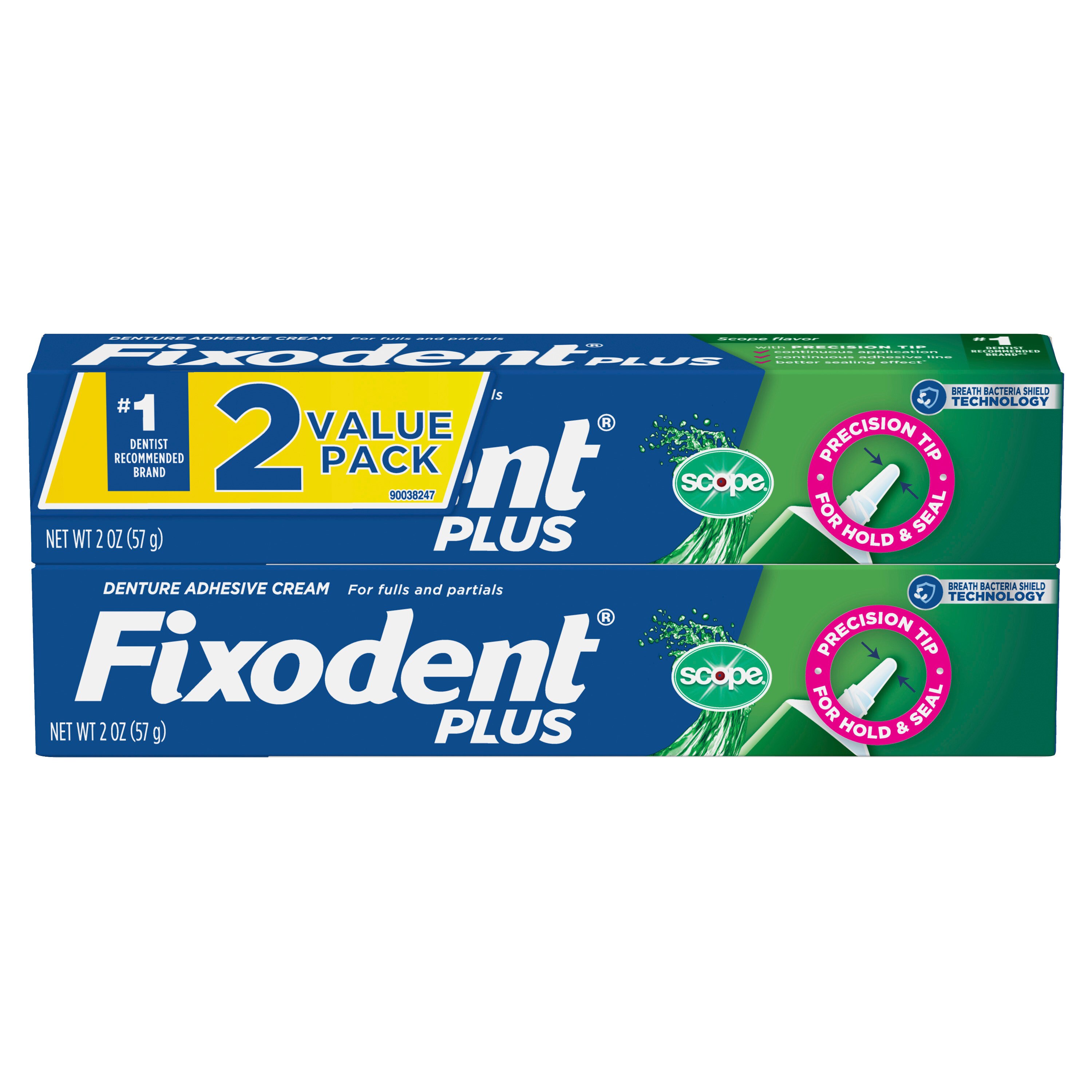 Fixodent Food Seal Denture Adhesive Cream Plus Scope Flavor
Strong, long hold for great fit. Precision tip for less ooze. Helps seal out food. No. 1 dentist recommended. Fixodent Food Seal plus Scope flavor kills odor-causing germs for fresher breath (vs. no adhesive) and confidence in any situation - without compromising the great hold you've come to expect from Fixodent. Plus, the precision tip nozzle gives you the control to apply the amount you want where you want it, for: a better seal against tough food particles (vs. no adhesive); less ooze (vs. leading denture adhesive); great fit & strong, long hold.
Calcium/Zinc PVM/MA, Mineral Oil, Petrolatum, Cellulose Gum, Silica, Flavor, Sodium Saccharin, Yellow 6 Lake, Red 27 Lake.
For best results, start with a small amount of Fixodent and then adjust to find the amount that's right for you. Too much adhesive can cause oozing. To Apply Adhesive: Clean and dry dentures thoroughly before applying Fixodent. Apply Fixodent in a continuous line around the perimeter of both dentures and two lines in the center of the upper denture. Start with a small amount. Do not apply too dose to denture edges. Press dentures firmly in place and hold briefly. You are using too much if product oozes after inserting dentures. Many denture wearers find one use a day is sufficient. If you are using Fixodent more than twice a day or have problems with your denture hold, consult your dentist about the fit of your dentures. See your dentist regularly to ensure proper fitting dentures. Poorly fitting dentures may impair your health.
Contains zinc (less than 4%). Some reports suggest that excessive and prolonged zinc Intake may be linked to adverse health effects. Use as directed, and consult a doctor if taking other products containing zinc. Note: For more information about the proper use of denture adhesives, or about zinc and other product ingredients, go to www.dentureliving.com or call 800-214-8871.