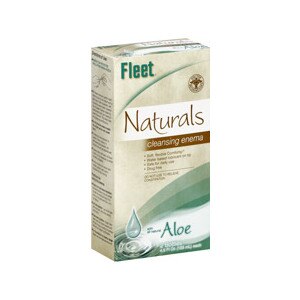 Fleet Naturals Cleansing Enema
With all natural Aloe. Soft, flexible Comfortip. Water based lubricant on tip. Safe for daily use. Drug free. Do not use to relieve constipation. Fresh. Clean. Natural. Enjoy the benefits of rectal cleansing, naturally, with Fleet Naturals. Fleet Naturals is the first ready-to-use enema designed to hygienically cleanse without the drugs found in laxative enemas. Fleet Naturals contains natural aloe commonly known for its calming and soothing properties and is gentle enough for daily use. Cleansing enemas are used by many to feel cleaner and fresher, resulting in a greater sense of confidence and vitality. Rectal cleansing has been popular for centuries and now there is a more convenient way to safely cleanse at home. Complete enema in a disposable squeeze bottle with soft, pre-lubricated Comfortip. Protective shield prevents contamination. Pre-lubricated Comfortip for ease of insertion. One-way safety valve controls flow and prevents reflux. Easy squeeze bottle. Contents: Each enema consists of a latex-free plastic bottle with a pre-lubricated nozzle. Route of Administration: For rectal use only. Frequency of Use: One cleansing enema may be use per day. Single use enemas are more hygienic than reusable enemas. Age Limit: 18 years of age and above.
Purified Water, Sodium Chloride, Aloe Barbadensis Leaf Juice, Benzalkonium Chloride, Edetate Disodium.
Use: Remove tan protective shield from enema nozzle. With steady pressure, gently insert enema nozzle tip into rectum with a slight side-to-side movement, with tip pointing toward navel. Insertion may be easier if person receiving enema bears down, as if having a bowel movement. This helps relax the muscles around the anus. Do not force the enema nozzle into rectum as this can cause injury. If resistance is encountered on insertion of the nozzle or in administering the solution, the procedure should be discontinued. Squeeze bottle until nearly all liquid is gone. It is not necessary to empty the bottle completely. Remove nozzle from rectum and maintain position until urge to evacuate the fluid is strong. Positions for using this enema: Position for Self-Administration: Self-administration may be carried out with the individual lying on a towel, on the bathroom floor, or in the bathtub. Left-Side Position: Lie on left side with knee bent, and arms resting comfortably. Knee-Chest Position: Kneel, then lower head and chest forward until left side of face is resting on surface with left arm folded comfortably.
Do not re-use bottles and nozzles. One time use only. Call a doctor if no return of fluid. If pregnant, ask a healthcare professional before use. Do not use in patients with imperforate anus or bowel obstruction; to self-treat or prevent a STD; after exposure to a STD; to relieve constipation; as a preparation for medical procedures. For your protection, this carton has an imprinted seal on the top and bottom flaps Fleet Laboratories. Do not use if seal is broken or missing. Keep out of reach of children.