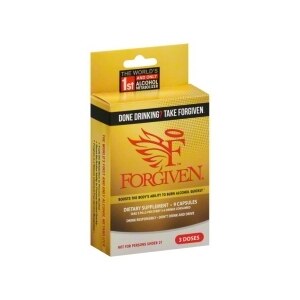 Forgiven Alcohol Metabolizer Dietary Supplement Capsules
Dietary Supplement. 3 doses. Boosts the body's ability to burn alcohol quickly. Done drinking? Take Forgiven. Not for persons under 21. Fuels the metabolism to process alcohol. Boosts the bodies ability to process alcohol quickly. Forgiven is a natural, chemical free alcohol metabolizer. The world's 1st and only alcohol metabolizer. (These statements have not been evaluated by the Food and Drug Administration. This product is not intended to diagnose, treat, cure, or prevent any disease.) Made in the USA.
Proprietary Blend: Organic Acids, L-Cysteine, L-Glutamine, Rhodiola Rosea Extract. Other Ingredients: Gelatin, Magnesium Stearate, Silica, Silicone Dioxide.
Take 3 pills every 5-6 drinks consumed. Drink responsibly. Don't drink and drive. 1-5 drinks consumed: one packet (3 capsules); 6-10 drinks consumed: two packs; 11+ drinks consumed: three packs. Suggested Use: As a dietary supplement, take 3 capsules per every 5-6 drinks consumed, when finished drinking preferably with water. Repeat dose every 5-6 drinks. (Optional) For more complete recovery, take an additional 3 capsules in the AM as needed.