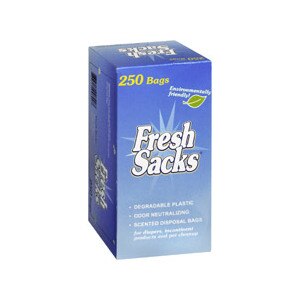 Fresh Sacks are scientifically formulated to actually neutralize odor and the colored bags will discreetly conceal the contents. Fresh Sacks: The perfect solution for disposing diapers, incontinent products and pet waste. Large 9 x 11 in. for baby diapers, pets or most adult diapers.
Simply remove one sack from the dispenser box. Place waste into sack. Tightly knot the EZ tie handles forming an airtight seal. Dispose of hygenically at home or in a public trash bin.
Plastic bags can cause suffocation. Keep out of reach of children. Do not use for food storage. Do not flush bags.