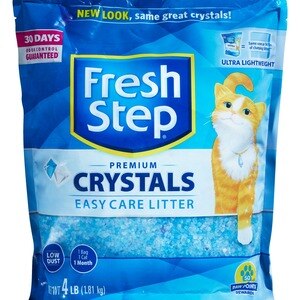 Fresh Step Crystals Cat Litter
Locks in odors up to 5X longer. New more absorbent crystals. Easy to sift through scooper. Softer on cats' paws. Made in China.
Usage Instructions: Your cat will love Fresh Step Crystals, so be sure to follow these usage instructions to experience a real breakthrough in odor control. 1. Fill your clean litter box at least 1 1/2 inches high with Fresh Step Crystals. Some larger litter boxes may require more than one bag to get started. For best results, do not add any other litter products or additives to the box. 2. Regularly remove solid waste and rake Fresh Step Crystals to maintain freshness. It is important to rake the crystals for optimal performance. Raking involves mixing up the litter with a scooper so the crystals are properly aerated and evenly distributed. Dispose of solid waste in trash. Do not flush.
We would like to remind our customers, especially pregnant women and immunosuppressed persons, that cat feces can sometimes transmit a disease called toxoplasmosis. Therefore, always remember to wash hands thoroughly after handling used cat litter. For further information, consult your physician. Unused litter poses no toxoplasmosis threat.