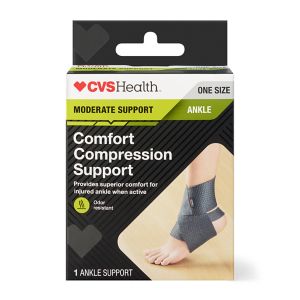 Futuro Adjust to Fit Ankle Support
Enhanced breathability. High-performance support. Odor resistant. Comfortable material wicks away moisture and provides enhanced breathability. Antimicrobial treatment inhibits growths of odor-causing bacterial on the support. Flexible comfort strap adjusts for personalized fit and support. When to Use: This Futuro Precision Fit Ankle Support is designed to provide compression and support for stiff, weak or injured ankles. It also helps provide protection from further injury and offers enhanced breathability versus neoprene. Our expert panel of engineers and medical professionals brings innovative technology to every product we make. CE listed. Made in USA with globally sourced materials.
Fiber Content: Polyurethane, Nylon, Spandex, Polyethylene.
Size: For right or left foot, this ankle support has been designed with an adjustable strap in order to create a customized fit for most body types. Measure around ankle. Adjust to fit; 7.5-11 inches. Washing: Close fastener prior to washing. Hand wash with mild soap in warm (not hot) water. Rinse well and air dry. Do not: machine wash, tumble dry, dry clean, or use bleach or fabric softeners. How to Wear: Position support with smooth side against skin. Place heel securely in loop. Pull support to side of foot and wrap over the top of foot toward inside of ankle. Wrap support under foot arch and over top of foot. Wrap support around back of ankle, then toward front of ankle. Attach hook fastener to support. Re-wrap support with varying degrees of tension until desired support and comfort are achieved.
If discomfort or pain results, persists or increases, discontinue use and consult a physician.