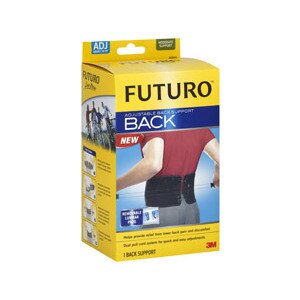 Futuro Adjustable Back Support
Removable lumbar pads. Helps provide relief from lower back pain and discomfort. Dual pull cord system for quick and easy adjustments. Soft, breathable materials, with durable lacing for all day wear. Designed with side stretch panels for additional comfort and fit. Easy application and removal. Removable lumbar pads, cushion and support. Dual pull cord system allows for minimal exertion and body motion. Side stretch panels help minimize slipping and bunching. When to Use: This Futuro Adjustable Back Support is designed to help relieve lumbar region back pain due to muscle fatigue or strains. It permits full range of movement while providing comfortable support and compression. Great for the workplace, recreation and at home. Our expert panel of engineers and medical professionals brings innovative technology to every product we make. CE listed. Made in China for 3M.
Fiber Content: Nylon, Polyester, Urethane Based Foams, Neoprene Blends, EVA.
Size: This back support has been designed with a pull cord system in order to create a customized fit for most body types. Measure around waist at the navel. Adjust to fit: 29-51 inches. Washing: Secure all straps prior to washing. Remove pads. Hand wash with mild soap in warm (not hot) water. Rinse well and air dry. Do not: machine wash, tumble dry, dry clean, or use bleach or fabric softeners. How to Wear: 1. Remove pads on inside of support if desired. Center lacing over middle of spine. 2. Wrap panels around waist and secure hook and loop in a comfortable, but snug position. 3. Release pull cord straps on each side and pull in an outward motion until the brace is at desired level of support. 4. Bring pull straps forward and secure. Adjust support as needed.
If discomfort or pain results, persists or increases, discontinue use and consult a physician. Some individuals may be sensitive to neoprene or neoprene-blend rubber. If rash develops, discontinue use and consult a physician.