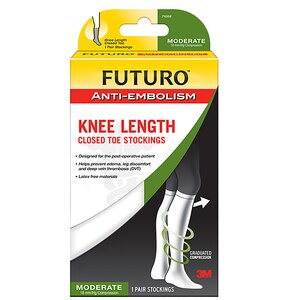 Futuro Anti-Embolism Stockings Knee Length Closed Toe White Medium Regular
Designed for the post-operative patient. Helps prevent edema, leg discomfort and deep vein thrombosis (DVT). Latex free materials. Graduated compression. 18mm/Hg compression. For men & women. Anti-Embolism Benefits: Graduated compression speeds blood flow by providing the most compression at the ankle and gradually diminishing pressure up the calf; Helps reduce the formation of blood clots; Soft, durable materials for outstanding comfort and fit. Contraindications: anti-embolism stockings may not be recommended for patients with the following (always consult your physician): 1. Any leg condition in which stockings would interfere, such as: dermatitis (skin problems); gangrene; vein ligation (leg surgery); recent skin graft. 2. Severe vascular diseases, such as arteriosclerosis (hardening of the arteries), that cause poor circulation to the leg. 3. Massive edema (swelling) of the legs, or pulmonary edema (fluid in the lungs) from congestive heart failure. 4. Extreme deformity of the leg. Easy-to-follow wear instructions inside package. Our expert panel of engineers and medical professionals brings innovative technology to every product we make. CE listed. Made in USA for 3M.
Fiber Content: Nylon (90%), Spandex (10%).
Fitting Futuro Stockings: 1. Measure around the circumference of calf at the widest point to determine size. 2. Measure distance from bend of knee to bottom of heel (in standing position) if possible) to determine length. Care: To ensure stockings last as long as possible, launder after every three days of use. Keep the stockings free from substances like ointments, oils and lanolin, which could deteriorate elastic. Machine-wash in warm (not hot) water on gentle cycle using mild detergent. Air dry. Do not bleach, tumble dry, dry clean or iron.
Futuro Stocking precautions: proper sizing and application must be assured. These stockings are only to be worn on the advice of your doctor and for the time period recommended. If discomfort or pain results, persists or increases, discontinue use and consult your physician.