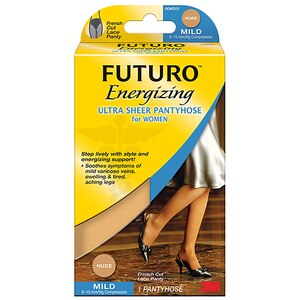 Futuro Beyond Support Ultra Sheer Pantyhose Mild Compression Medium Nude
For women. Mild: 8-15 mm/Hg compression. Step lively with style and energizing support! Soothes symptoms of mild varicose veins, swelling & tired, aching legs. Futuro Energizing Ultra Sheer Pantyhose for Women provide an empowering boost! If you're constantly in motion, traveling, or working in a hectic office, these Ultra Sheer Pantyhose will help you feel great all day. Our silky-soft material has a reinforced toe that is enhanced with durable run guard, so you'll look great even after repeated wearings. Also featured is a French Cut Lace Panty for added comfort. Energizing Benefits: Graduated Compression - Improves circulation with maximum compression at the ankle that gradually decreases up the leg to provide an energizing feeling. Massage-in-Motion - Massages tired, achy legs as you move. Ideal for - Being on your feet or sitting in one place all day, traveling, or active office work. Vein Therapy - Helps relieve symptoms of superficial spider and early varicose veins. Our expert panel of engineers and medical professionals brings innovative technology to every product we make. CE listed. Made in USA for 3M.
Fiber Content: Nylon (85%), 15% Spandex (15%).
Wear: 1. Place thumbs inside hosiery and gather material. 2. Slip each foot inside hosiery and gradually pull up and over heel. 3. Adjust heel for comfortable fit. 4. Gently slide hosiery up each leg and smooth out wrinkles. Care: Hand wash with mild soap in lukewarm water. Do not wring out. Blot with towel to remove excess water. Air-dry or tumble-dry in delicate cycle on low heat.