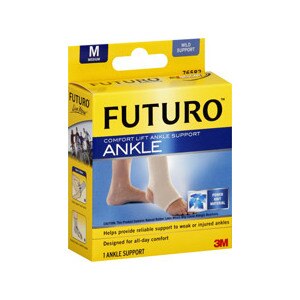 Futuro Comfort Lift Ankle Support Medium
Helps provide reliable support to weak or injured ankles. Designed for all-day comfort. Power knit material. Live more. Anatomical shape for optimal fit & joint protection. Breathable, dual-stretch power knit materials for comfort. Comfort panel reduces bunching behind the heel. Fits comfortably in shoe. Medium: 12.5-15.0 in. (31.8-38.0 cm). When to Use: This Futuro Comfort Lift Ankle Support is designed to provide support to stiff, weak or injured ankles. Wear during activities which lead to discomfort. Our expert panel of engineers and medical professionals brings innovative technology to every product we make. Package is recyclable. CE listed. Made in China for 3M.
Fiber Content: Cotton, Rubber, Nylon, Polyester, Spandex.
1. Slide support over ankle. 2. Position heel in comfort panel. Size: For left or right foot, measure around the heel and the instep. Washing: Hand wash with mild soap in warm (not hot) water. Rinse well and air dry. Do Not: machine wash, tumble dry, dry clean, or use bleach or fabric softeners.
This product contains natural latex which may cause allergic reactions. If discomfort or pain results, persists or increase, discontinue use and consult a physician.